Christopher Columbus, as you may have heard, opened up the Americas to European exploration with the patronage of the Spanish monarchy at the end of the 15th century. What you probably did not know, is that on his fourth voyage in 1502, he sailed along the very coast that I look over every day from our porch.
Legend has it that after exploring the area between the bay islands and the mainland he proceeded southeastward, where the water become very deep immediately off shore. There he was caught in a tropical storm (something we are very familiar with of late). Finding refuge in a eastern cove he exclaimed "Gracias a Dios que hemos salido de estas honduras! [Thank God we've escaped these treacherous depths!]. From that exclamation, the area where he took refuge became the Departmento known as Gracias a Dios and the entire territory, later an independent country, came to be called Honduras.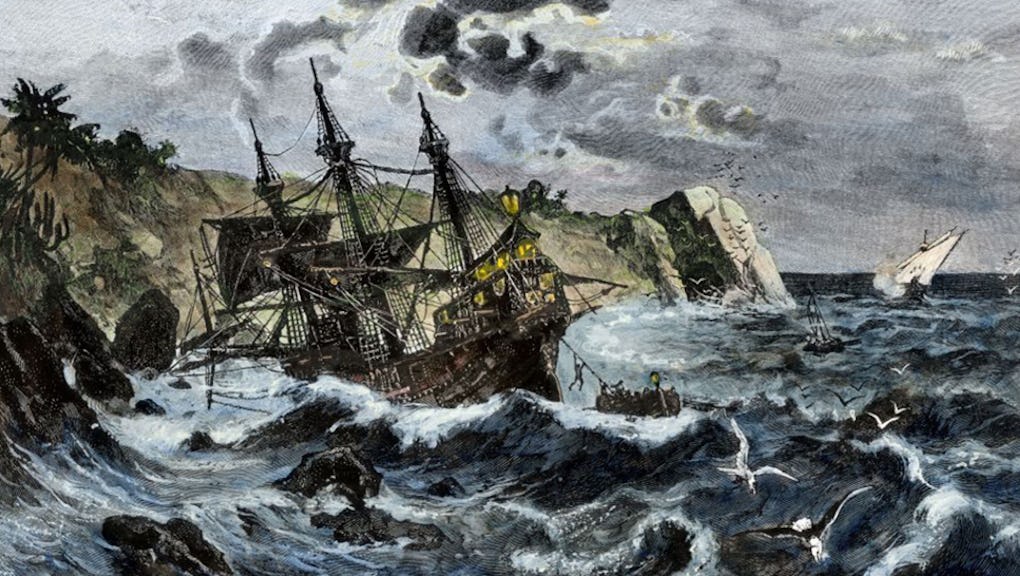 Now you know how Honduras got its name. Which probably has something to do with why the name Cristofer is popular to this day in Honduras. In fact, the six year old boy currently on my inpatient service for the last week and a half is named Cristofer. And he, like his namesake is going through a harrowing time. I would like to tell you his story so you all can pray with us, help support him as you feel led, and hopefully in 3 or 4 weeks be able to say, "Gracias a Dios – Thanks be to God, he has made it out of danger!" as we send him on his way home.
Cristofer came in to our emergency room a little more than a week ago. His parents were at their wit's end and knew with a parent's intuition, that something was very wrong with their youngest son's abdomen and that his time was running out.
The story of Cristofer's abdominal problems began when he was 2 years old, Cristofer had to have an abdominal surgery due to an intussusception, a problem caused by bowel sliding back into itself and getting stuck – like a telescope collapsing down. The surgery was successful and he went on to live and grow normally till he was 4 years old. At that time, his intestines became knotted up due to the scars left by the first operation. This required another surgery, and the removal of some of his intestines. Once again, the surgery was successful and he went on to live and grow up normally for a further 2 years -until about 2 months ago.
2 months ago, he started to have belly pain, nausea, and vomiting. He was hospitalized and found to have another knot or bowel obstruction. this time the surgeon told his parents that part of his intestines had turned black. Further bowel had to be removed, and the surgeon was confident that he had removed the problem and repaired the remaining bowel. Cristofer was discharged home. But over the intervening weeks he never seemed to get better. He continued to have vomiting and belly pain, and then he started to lose weight.
When he was brought into our Emergency Room, he was still able to walk and talk, but it was clear that his body was very malnourished. His body had consumed whatever fat stores he had, and now had begun to consume his own muscles.
After talking his case over with our surgeon and other doctors, and doing several tests including sending him to the nearest large city to have a CAT scan, it became clear that Cristofer has a small bowel obstruction that almost completely blocks his food from going more than a few feet past his stomach (the small bowel typically absorbs nutrients over the course of about 20 feet of looping intestines).
All of this means that Cristofer needs yet another operation. But with an abdomen that has a proven track record of forming problematic scarring and a very recent surgery – the chances of long term or even short term success are not good. If we were to operate immediately, cut open the problem portion of bowel and stitch it back together; at his current level of nutrition he would be unable to heal the wound before the sutures dissolve, at which point he could die from a bowel leak. To improve these odds, our surgeon has asked that we buy Cristofer time (so that the abdomen can heal up and calm down from the most recent surgery), and give him the best chance to respond well and recuperate after the next surgery.
To that end we have begun the arduous process of giving Cristofer TPN (Total Parenteral Nutrition- nutrition put directly into the bloodstream). This is a sterile custom mix of the basic building blocks of proteins, sugars, fats, and electrolytes recalculated every 2 days to meet Cristofers day-to-day nutrition needs. Our TPN has to be ordered from San Pedro Sula (half-way across the country), made up and shipped on ice via busses and couriers and whoever we can beg- so that it can be hung in a chilled box and pumped at a set rate through a UV proof tube.
Rather than belaboring how time intensive, detail oriented, and relatively expensive this process is- simply understand that my children and my wife think that I have adopted a fifth child named Cristofer with whom, or on whose behalf I am spending more time than I am giving any of them.
I am writing this to include you in the ministry that we do here. To ask that you pray for the upcoming surgery in 2-3 weeks. And to ask if any of you would like to help us pay for some of his care. Each bag of TPN costs a little more than $200 USD, and a bag lasts for 48 hours. So we are probably looking at around $5,000 USD just for the TPN.
Nevertheless, please don't take this as a desperate plea for help- Cristofer will get the TPN, and our hospital will figure out how to eat whatever cost his family cannot pay. But if you feel led to give, we'll be happy to put your money towards this or similar direct patient care projects. If you already give to support us, know that you've already taken a massive chunk out of all our patients' bills – because they didn't have to pay anything to their doctor.
In other news…
I am sorry to tell you that the little boy Alan, who I wrote to you about previously, died a few day after my last blog. We believe that his brainstem- which controls things like heart rate and breathing rate was severely damaged during one of the times when he stopped breathing, and so he continued to worsen until he finally passed away.
Axel, the 3 year old with the life-threatening kidney problems, has had mixed results. His kidneys seem to be doing better sometimes and then go back to letting protein slip through. He is on a medicine that is not good for him long-term, but cannot be decreased or stopped unless his kidneys stop letting protein slip through. Please continue to pray for him.
Today I received my first ever live chicken gift! (I have long dreamt of this day.) He was given to me by a very thankful, and very poor family of a patient that I took care of in the hospital a few weeks ago with a diabetic coma.
Hannah Faith Gilley, our little baby girl, born here in Honduras several weeks after we came here, is turning 1 year old this week!
Grace and Peace to all of you.
May the Lord richly bless your upcoming Holy Week and Easter.
Dr. Nathan